Market Overview for Springfield, MO & the Ozarks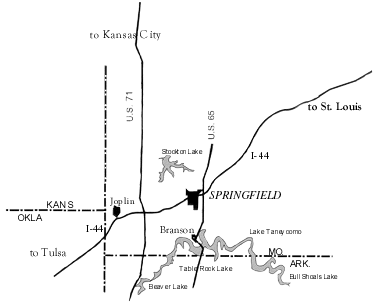 Bill Beall Co., Inc. believes... There is a uniqueness about the strategic location of Springfield, Missouri, and the Ozarks. A friendly workforce welcomes diversified business and industry. The resulting business climate has been one of stability offering insulation from the dramatic economic swings experienced by other parts of the country.
Springfield has strong, locally-owned financial institutions with conservative histories and abundant funds to invest in the local community.
Continued growth is further underlined by the expansion of area tourism and the focus on Springfield as a medical center for the four-state area.
Quick Commercial & Industrial Real Estate Facts
The Springfield Metropolitan Statistical Area (MSA) is comprised of Greene, Christian, Webster, Polk & Dallas counties and has a population of over 448,000 people.
Springfield's area of economic influence reaches 27 counties and 1,030,000 people.
Springfield-Branson Regional Airport connects to 11 different cities with over 36 daily flights.
Annual retail sales in Springfield have been over $3 billion and nearly $6 billion for the metropolitan area.
Springfield's economic output (gross metro product) doubled in the past decade--fastest growing in MO, top 50 in the US.
Approximately 95% of all area employers have fewer than 50 employees.
The health care industry employs 32,000 people with an economic impact of over $4.5 billion.
The cost of living in Springfield stays consistently 10% below the national average.
2.2 million visitors stay over night in Springfield.
Well-known companies operating in Springfield include: Kraft Foods, 3M, Bass Pro Shops, T-Mobile, Springfield Remanufacturing, Expedia Inc, Jack Henry & Associates, Paul Mueller Company, and O'Reiily Auto Parts.
Source: www.business4springfield.com
Resources